Bill Caco - "Conner"
Bill studied film at NYU and acting at the Stella Adler Academy, and is a two-time MTV Movie Award nominee for Best Movie Spoof. "F#cking 40" marks his episodic series directing debut.
Jeff Pride - "Glenn"
Jeff is a graduate of both the UCB and IOWest improv schools, and has appeared in several TV shows, independent films and web series as well as over a hundred national and regional commercials.
Justin J. Johnson - "Noah"
As a member of various comedy groups, including Rigor Tortoise, Justin's work has been featured in numerous media outlets, and he has toured the country performing in various festivals. He can be seen around Los Angeles doing improv, stand-up, or sketch.
Josh Robert Thompson - "Jugs"
Josh is best known for his work on The Late Late Show with Craig Ferguson, providing the voice of robot skeleton Geoff Peterson along with numerous characters and impersonations, as well as his celebrity impersonations on Family Guy and The Howard Stern Show.
Carrie Schroeder - "Shelly"
Carrie can be currently seen playing Dr. Sigourney Gaines on the Nickelodeon series I Am Frankie. She's also appeared in H2O: Just Add Water, Neighbours, and alongside Hugo Weaving on stage in the Sydney Theatre Company's The White Devil.
Brittany Falardeau - "Ella"
Brittany is an actress and producer, known for The Gallows 2, Altar, and Bodhi.
Lillian Solange - "Skyy"
Lillian studied theater at NYU, and has appeared in The 15:17 to Paris, Art Show Bingo, and Mère et Fille, California Dream.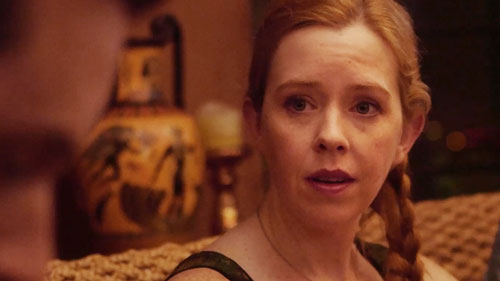 Sarah Jane MacKay - "Sam"
Sarah Jane has recently appeared on Westworld, NCIS, The Middle, Bosch, and in the Sundance VR film, Dinner Party.
Jennifer Titus - "Nikki"
Jennifer is a former professional figure skater, a licensed medical doctor, and an actress who has appeared in Zoombies, Rock Paper Dead, and Reprisal, starring Bruce Willis.